Green Office and Green Skills for Workers
Turn your team into green experts!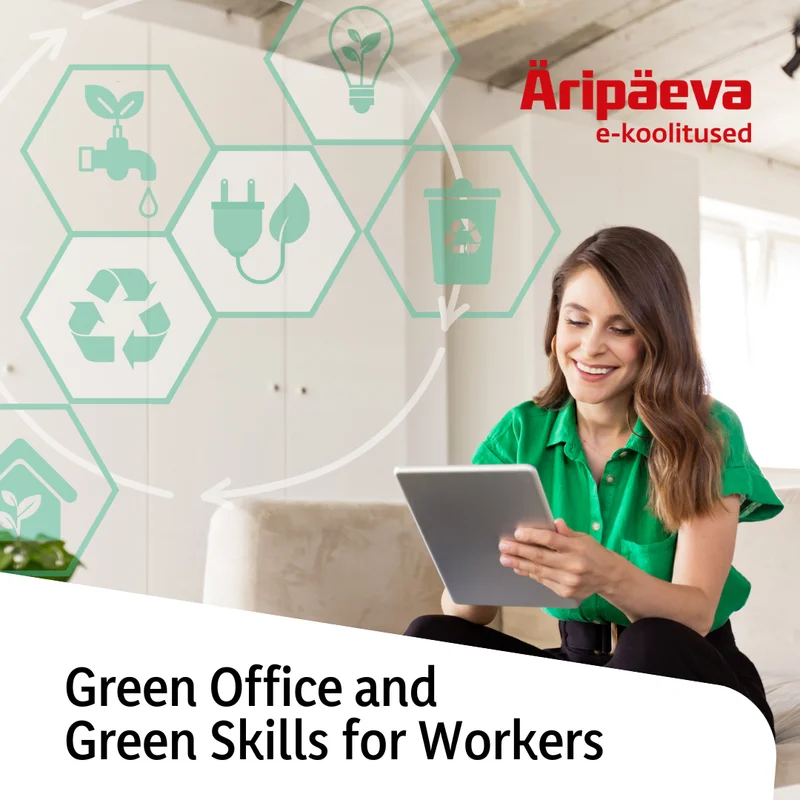 Tellimine
Green Skills for Office Workers and Green Office e-kursus
The employees' level of green knowledge plays a vital role in securing the company's long-term social, environmental, and economic sustainability.
E-course focuses on the fundamentals of sustainability and gives basic understanding of climate issues that humankind has to tackle. Employees are provided with knowledge of how to create a sustainable working environment. 
The course is suitable for all workers, regardless of the field of activity, and can be purchased by both individual learners and employers for their teams.
The e-course consists of seven chapters and learning exercises: 
Green skills
Green office
Sustainable commute
Sustainable office
Sustainable work
Clear out digital waste
The social aspects of the green transition
Completing each part takes 5-15 minutes, and you can study at a convenient time and location on a smart device equipped with the Internet. The e-course can be used unlimited times within one year and is intended for personal use only. After completing the purchase, access information will be sent to you by email within one business day. Then you can start your learning journey. 
WATCH DEMO VIDEO 
As a result of the e-course, the participant: 
knows what green transition and green skills are;
can integrate green skills into your professional life;
implement waste sorting and other environmentally friendly practices in the workplace;
analyse the environmental sustainability of work and make necessary changes;
understand the social aspects of green skills.
Upon request, a certificate will be provided to those who have successfully completed the course. The certificate will be issued on the condition of full participation in the online course and achieving the learning outcomes. 
Learning through an e-course is a great opportunity to train your team simultaneously, as employees can choose when they study, and thanks to short learning bites, it does not require complex time planning. By selecting the e-course for the entire team, we will provide the manager with an overview of the team's progress in the course. If your company has more than 100 employees, please request a personalized offer at [email protected]. 
Tellimine
Green Skills for Office Workers and Green Office e-kursus