Occupational Health and Safety for Office Workers
Practical and interactive e-course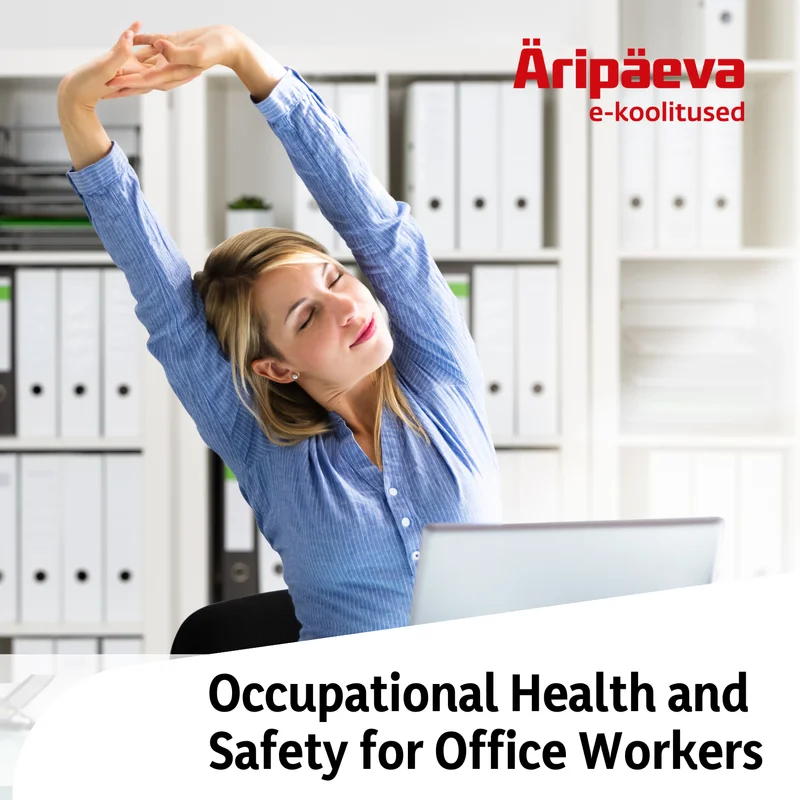 Tellimine
Occupational health and safety for office workers
The course is designed for office workers, regardless of their field of activity, to provide them with essential knowledge for maintaining and operating in a safe and secure work environment.
Organizations where employees are aware of occupational health and safety regulations are less likely to experience dangerous situations and incidents that can cause serious harm.
In addition, mental health is also an important aspect of overall well-being and the quality of the work environment.
Therefore, it is important to address the topic of mental health as well, so that office workers can feel well and be productive, while avoiding work-related stress and burnout.
The e-course consists of seven chapters and learning exercises:
PART: Objective of occupational health and safety
PART: Organization of occupational health and safety in the workplace
PART: Risk factors in the work environment
PART: Warning signs and hazardous situations
PART: Designing an office workstation
PART: Mental health
PART: Knowledge test
Completing each part takes 5-15 minutes, and you can study at a convenient time and location on a smart device equipped with the Internet. The e-course can be used unlimited times within one year and is intended for personal use only. After completing the purchase, access information will be sent to you by email within one business day. Then you can start your learning journey.
Watch the demo video
As a result of the e-course, the participant:
have an understanding of the principles of workplace organization;
know their role, responsibilities, and rights regarding occupational health and safety in the company;
recognize safety signs and risk factors;
identify and know how to act in hazardous situations;
be able to design an ergonomic work environment;
be able to recognize and take care of their mental health.
Upon request, a certificate will be provided to those who have successfully completed the course. The certificate will be issued on the condition of full participation in the online course and achieving the learning outcomes.
Learning through an e-course is a great opportunity to train your team simultaneously, as employees can choose when they study, and thanks to short learning bites, it does not require complex time planning. By selecting the e-course for the entire team, we will provide the manager with an overview of the team's progress in the course. If your company has more than 100 employees, please request a personalized offer at [email protected].
The author of the e-course is Katrin Kask, who has a background in environmental studies and has completed various training courses related to occupational health and safety. Currently, Katrin is studying ergonomics at the Estonian University of Life Sciences.
Tellimine
Occupational health and safety for office workers